Salina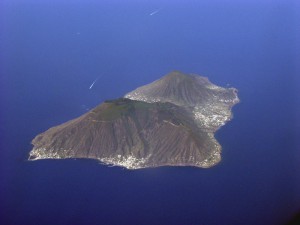 Located in the centre of the Aeolian Islands, with a surface of 26,8 km2, the island of Salina is the second in size after Lipari. It is formed by six extinct volcanoes, the two main ones "Monte Fossa delle Felci (m.962) and Monte Porri m.860) inspired the Greeks to name it "Didyme (Twin Island); if you observe it from the northeast it seems to be divided into two equal parts.
The current name, instead, comes from a little lake situated in Lingua, where salt was once extracted to preserve fish and capers.
For its vegetation it is also called "Green Island", it is in fact the most popular among naturalists and trekking lovers. To immerse yourselves in this green scenery just go to Valdichiesa and from there reach the mentioned volcanoes, through a walking path.
Worth mentioning is certainly the interest that Salina aroused in the cinema. It is in Pollara, the Aeolian house become famous with Massimo Troisi's Film "Il Postino"(The postman).
Salina differs from the other islands, which all come under Lipari, for being divided into three independent communes:
Santa Marina (including the village of Lingua);
Malfa (including the villages of Pollara and Capo Faro);
Leni (including the villages of Valdichiesa and Rinella).
Since 1980 Salina is home to a Natural Park.
Since 2002 Salina has been declared, together with the other archipelago's islands, a World Heritage Site by Unesco.